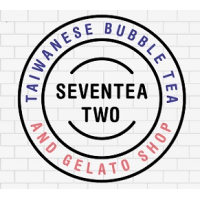 SevenTea Two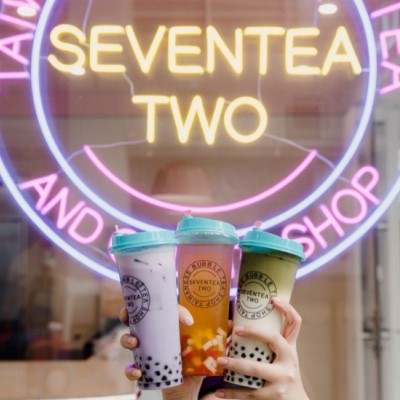 Store Hours
| | |
| --- | --- |
| Mon | 12:00pm - 8:00pm |
| Tue | 12:00pm - 8:00pm |
| Wed | 12:00pm - 8:00pm |
| Thu | 12:00pm - 8:00pm |
| Fri | 12:00pm - 9:00pm |
| Sat | 12:00pm - 9:00pm |
| Sun | 12:00pm - 8:00pm |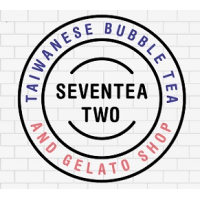 SevenTea Two
Your one stop shop for traditional Taiwanese Bubble Tea and authentic Italian Giardina Gelati.
SevenTea Two offers a selection of fruit and milk Taiwanese bubble teas, including a range of jelly or special toppings, such as a brown sugar, pearl or red bean. The delicious flavours do not stop with just bubble tea, Seventea Two also offers Bubble Waffles and authentic Italian Giardina Gelati made fresh in store, from delicious salted caramel to mint chocolate, there is something for everyone.

Bubble tea, also known as pearl milk tea or boba milk tea, is a Taiwanese tea-based drink invented in Taichung in the 1980s. The term "bubble" is an Anglicized imitative form derived from the Chinese bōbà (波霸), meaning "large", slang for the large, chewy tapioca balls commonly added to the drink. These are (粉圓, fěnyuán), also called "pearls" (珍珠, zhēnzhū).
Sample Menu
Gelato (available in cup or cone)
| | |
| --- | --- |
| 1 Scoop (1 flavour) | $5.00 |
| 2 Scoops (up to 2 flavours) | $7.00 |
| 3 Scoops (up to 3 flavours) | $9.00 |
| Mini scoop (1 flavour) | $3.00 |
| 500ml takehome tub (up to 3 flavours) | $14.00 |
Tea menu (one size only) $6.30
Green Tea: Jasmine, Lychee, Sakura, Plum
Fruit 4 Season Tea
Milk Tea
Motcha Latte Tea
Black Tea : Lychee, Strawberry, Passionfruit
Oolong Tea: Grape, Mango, Plum
Iced Tea: Hawiian, Herb
Toppings+50c
Pearl
Lychee Jelly
Strawberry Jelly
Aloe Vera
Rainbow Jelly
Coffee Jelly
Egg Pudding
Special topping+$1.00
Brown Sugar Pearl
Red Bean
Other customers looked at: