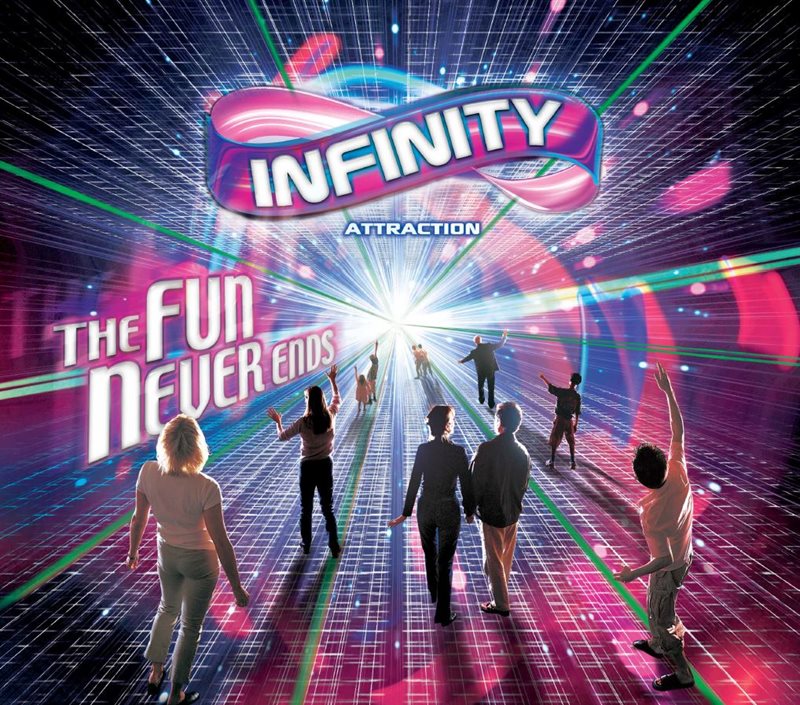 Just For Fun's Sake - Infinity Attraction - Fun For All Ages
Looking for an activity to bring your work team closer together? Visiting the Gold Coast soon? Having trouble keeping the kids entertained? Or perhaps you're simply after some fun?
Well whatever the case, Chevron Renaissance's near-galactic galore and one-of-a-kind, Infinity Attraction, offers a truly unique and mesmerising experience into a spectacular series of 20 multi-sensual environments. Each area will immerse you in ultra-groovy sound fields, sensually arousing aromas, amazing special effects and illusions all presented in a maze-like structure. And guess what? This attraction is best suited to ages 8 - 98, so surely the fun never ends for the entire family! Infinity Attraction will be ready for your next event...
Kids Parties
Since Infinity Attraction is suitable for ages 8 years and above, gather those mini troopers and host your kid's next party at Infinity. Affordable value with special discounted rates on offer. Lively and adventurous, Infinity provides the perfect platform for a 30 minute journey the kids will never forget.
Adults
Whether you're thinking of something spontaneous to do with your partner, a surprise trip for a friend in need of a break or if you'd like to venture into the amazing journey of Infinity solo, then there's no time like the present. Your journey is best enjoyed taking your time and marvelling at this amazing futuristic funhouse. You can spend as long as you like in each dimension before moving to the next.
Schoolies
Celebrate graduation as a group with this youthful and highly amusing indoor activity, which invites you to unwind, journey and explore with your mates. Brace yourself for screams, laughs, gallops and raves ahead as you embrace this futuristic funhouse - a rare find. And if you're just visiting the Gold Coast, then this is one attraction you won't want to miss.
Conferences
Compel your associates and work partners with an unconventional yet clever way of challenging intellect, unleashing creativity by way of problem-solving and stimulating the senses, all of which, are set to make for an engaging and standout evening - sure to encourage enthusiasm when it's time to sit down afterwards and get back to business.
Team Building
You've put in the hard hours and now it's time to leave the office and end the day on a good note. This activity proves an ideal choice for thanking staff for a job well done, for bringing the team closer together or for planning a nice time out for everyone to enjoy. Infinity Attraction will have your staff enthused as they naturally work and grow stronger together, all while figuring out how to navigate through a new and enlightened environment…an essential change of air.
Social Clubs
Your next outing is settled. Youth groups, sporting teams and various social clubs will certainly want to attend this event. After all, who wouldn't? With psychedelic vibes, enchanting lights, puzzling tracks and ultra cool beats, grab the group and get onboard for an excursion everyone can enjoy.
To infinity and beyond, here we come! For group enquiries, head here.
Subscribe to our newsletter
Subscribe today to receive the latest offers, events and exclusive promotions at Chevron Renaissance.